Decades ago, when cars guzzled gas, ran dirty and had square, rectangular corners instead of aerodynamic curves, a regular 3,000-mile oil change was necessary to keep your automobile running clean and smooth. Yet a lot of technological advances have occurred since that time – both to your vehicle and the oil itself – and the familiar 3,000-mile oil change service is actually as antiquated as dial-up internet service.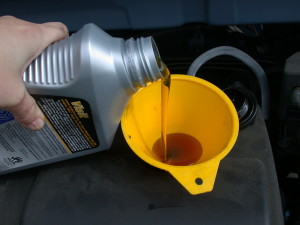 According to experts at Edmunds.com, the owner's manuals of most modern vehicles today suggest a 5,000 to 7,500-mile oil change. Does that surprise you? If you are getting an oil change every 3,000 miles, that's almost twice as much as you need to. That's a waste of time, energy, money and our natural environmental resources.
See How Much That "Cheapest Oil Change in San Diego" Really Costs
So why does this wasteful practice keep happening? Unfortunately, some auto repair shops promote this unnecessary car repair service in order to boost their business and bring customers into the shop. By using a promotional oil change coupon, they remind you to bring your vehicle in for its 3,000-mile cheap oil change service. Actually, it would be a whole lot less expensive to toss the so-called promotional flyer and follow the suggestions listed by the vehicle manufacturer. This information can readily be found in your owner's manual.
"The Cheap Oil Change" Is a Bunk Claim
For chain car repair shops in San Diego (or anywhere for that matter) that boast of the $19.99 oil change, they tend to get their business by bringing customers in unnecessarily every 3,000 miles. They claim to be "cheapest oil change" but by paying for this service over and over again, you're probably paying more. By using local auto repair shops that follow the manufacturers' guidelines rather than the old 3,000-mile "rule," you might actually save more money.
Some drivers mistakenly believe that an oil change, even when it is not really needed, can help improve your vehicle's performance. Yet automobile experts contend that this is simply not true. In fact, unnecessarily replacing your vehicle's oil offers no benefits whatsoever.
So next time you get an oil change coupon, be sure to check your vehicle's actual mileage with your manual to see when your true oil change is needed.