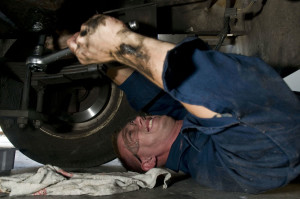 Getting regular oil changes for your car, truck or SUV can help it run smoother day after day. Around town, oil change costs can vary considerably from the super cheap oil change done by chain lube garages to the very expensive jobs done by service dealerships.
At Griffin's, we offer oil change coupons to local customers because we want them to get value for visiting our shop. But more than discounts and a promise of "the cheapest oil change in San Diego," we offer a full vehicle maintenance inspection performed by our ACE-certified mechanics.
For some repair shops, the "cheapest oil change" ad is a gimmick to get you into their shop, but then keep you there for unnecessary services. At Griffin's we offer legitimate oil change coupons without the bait-and-switch tactics. We've been providing reasonably priced oil change services for more than 55+ years so we don't need cheap marketing tactics to swindle our customers. We back up our claims with an 24,000 mile or 24-month guarantee.
Griffin's oil change & repair service from our Yelp reviewers:
"What a great experience I had. Walked in to the office and was greeted to a big smile. Though I didn't have an appointment, they gave me a loaner so that I could get to work on time. I got a call a few hours later that the car was ready. When I arrived, I got a lesson about how to pop my hood, pull the carpet back and check my oil (I have a smart car). I will absolutely be back. Great shop, with fair prices."
"I recently purchased a 2011 MB from CarMax with a 30-day warranty. I found Griffin's in Little Italy on Yelp with great reviews for MBs and BMWs. I spoke with Chris and told him my situation. They ran it through an in-depth, unbiased check on the entire car for a very reasonable price. It took about an hour and half. Chris did find one major item- rear oil main seal leak that would typically cost $1500 to repair. CarMax agreed with the finding and had it repaired for no cost. So Chris and Griffin Auto Repair essentially saved me $1500. His shop was clean and cool. I'll be back for my routine service. Thanks Chris!!"
Read more of our Yelp & Google reviews & see for yourself!
Most manufacturers recommend an oil change for your vehicle every 3,000 miles on a car with a 10,000 mile interval or a 5,000 mile service for a vehicle oil change schedule. A typical Griffin's oil change service includes:
Replacing your dirty oil with up to 5 quarts of the proper viscosity grade oil
Fitting a new oil filter
Lubricating the various components on your car as needed.
Assessing and topping off (if needed) the fluid levels for your systems, including brakes, steering, transmission, coolant / antifreeze and more.
A full system inspection and diagnosis
Please be sure to check out oil change coupon page for regularly updated deals for our services.
Request Appointment