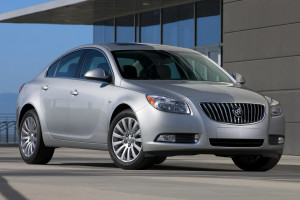 Buick vehicles have been around for more than 100 years and while their popularity has ebbed and flowed a bit with the changing times, the Buick luxury brand remains well-recognized among American car owners. Made by General Motors (GM) the Buick shows little signs of slowing down though the brand continues to re-invent itself. In 2015, Buick was the first U.S. automaker to show up on Consumer Report's coveted Top 10 ranking. That's quite a distinction!
From the in-demand Encore to the classic Park Avenue, Buick is likely to stick around for a while. At Griffin's, our repair shop takes great pride in keeping your vehicle on the road for a long time. We provide Buick service and repair to popular makes and models, including:
Century
Encore, small SUV
Enclave, mid-sized luxury SUV
Rendezvous Crossover
LeSabre
Lucerne, full-size upscale sedan
Park Avenue, full-size luxury car
Verano, small sedan
Regal, mid-sized sedan
LaCrosse, full-size sedan
Cascada, convertible
And much more…
From Buick maintenance to transmission repair, we fix it all
So whether you are looking to keep your Buick driving strong with regular oil changes or are in need of more serious auto repair work under the hood, you can count on Griffin's Buick service center. Our Buick mechanics can perform any number of services and repairs, including the following more common repairs:
cooling system services, including radiator flushes
ignition system repairs
fuel system repairs
water pump replacement
brake service and repair, including replacement of brake pads and rotors
engine repair, engine mount replacement, timing belt replacement and catalytic converter repair
automotive AC repair and service
check out all of our services here
Count on our Buick mechanics to fix it right the first time
You can trust Griffin's to do the right Buick repairs at the right time because we've been doing that since 1959. Our downtown San Diego repair shop has been successful in part because people trust us to both perform correct & quality auto repairs. Want more proof? Our 24-month or 24,000-mile is one of the best guarantees out there. So if you're used to going to the dealership's Buick service center for auto repairs, we invite you to save money and give Griffin's a try.
Request Appointment