Offering dependable & fast auto repair services in San Diego County

If you are shopping around for fair-priced and done-right car repair services , look no further than Griffin's Auto Repair in the Little Italy district in downtown San Diego. Proud to offer top-notch complete automotive repair services from the same location for more than 55+ years, Griffin's Auto is known for its neighborly feel and treat-you-just-like-family reputation. Yet unlike many local shops that may specialize in only one type of auto repair services, Griffin's provides a wide array of repair & maintenance services to popular and less popular foreign car brands on the road today, including:
Offering both major & minor car repair services
Using only factory-trained and ACE-certified mechanics, each auto repair service we perform on your vehicle is backed by an 24-year or 24,000-mile guarantee, which means if the repair or service breaks down during that time period, we will fix it at no cost to you. We stand by each of our auto repair services because we have confidence in our mechanics, computer diagnostics equipment, tools and our overall mechanical know-how.
Griffin's performs complete diagnosis & automotive repair services, including:
In addition to performing complete automotive repair services, we run:
Factory Recommended Maintenance Interval Services
Tune-Ups
Get more than you expected with Griffin's car repair services
As a professional courtesy, we provide full service warrantee for 24,000 miles or 24 months, whichever comes first. Free shuttle service is offered to downtown San Diego vicinity. At Griffin's, our ACE-certified mechanics use only OEM parts for its repairs and have a full stock of parts on site. Most repairs can be done same day. So schedule an appointment for regular maintenance check, repair or vehicle inspection and our mechanics will give you a fair estimate for the work.
---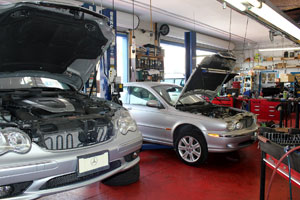 We are invested in our mechanics and our customers because we know how much you depend on your vehicle. We take pride in offering complete automotive repair services such as:
Engine Performance: Diagnosis & Repair
Computer Diagnostics
Air Conditioning and Heating Service and Repair
Electrical System Diagnosis & Repair
Complete Brake Service & Repair
Suspension & Steering Repair
Tune-ups & Oil Changes
CV Joints, Axles, Drivetrain
Hybrid Vehicle Service & Repair
SRS: (Supplemental Restrain System) Service & Repair
ABS (Antilock brake System) Service & Repair
Traction Control Systems
Automatic Transmission Service
Cooling System Service & Repair
Factory Recommended Maintenance Interval Services
Clutches & Transmissions
Pre-purchase Inspections
Full Service Warranty
Free Shuttle Service
You can trust our ASE certified mechanics and our staff to treat you right. We've been in business for more than 55+ years and plan on being around for at least another 55 more. We invite you to shop around and compare us to other auto repair and maintenance services in the area… How many car repair shops will say that? We're confident that you'll return to our shop for your complete automotive repair services.
Request Appointment