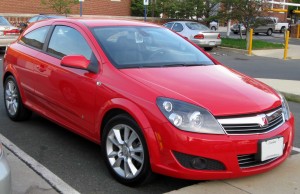 Back in the 1980s when U.S. consumers couldn't get enough of reliable, fuel efficient vehicles produced by Japanese automakers, General Motors decided to make and launch its own brand of car using the Japanese manufacturing method known as "Lean" production.
Seeking to make an out-of-this-world impression with its Lean-produced vehicle, GM named this brand "Saturn" after the 1960s rocket that landed on the moon. Though Saturn cars are no longer being made, GM discontinued the brand in 2009, they are a car brand that will forever represent adaptability and change in U.S. auto manufacturing and thinking.
Let Griffin's Be Your Saturn Service Center in San Diego
Though you are no longer able to purchase a newly minted Saturn, you can keep your Vue, Ion, Replay, Sky, or Astra running as long as possible with scheduled Saturn maintenance and repair. We can perform the full spectrum of Saturn car repairs and services, including:
Engine repair, engine bloc replacement, spark plug replacement, timing belt replacement
Alternator repair
Coolant system service including radiator flush
Suspension system repair and service
Transmission repair and part replacement
Auto AC repair, service, and tune-ups
Regular interval inspections
Not Sure What Saturn Service You Need? Let Griffin's Help
If you aren't sure what part needs repair, our Saturn mechanics and technicians can run a full system diagnosis to determine and whittle down the problem. Does something sound funny? Smell funny? Feel funny? Tell us all about it and we'll use our fine-tuned diagnostics to uncover the issue. This will help keep your Saturn repair costs down because we will only fix specifically what needs to be fixed. It is better – and cheaper — to replace a hose or connector than an entire system.
Think a Local Saturn Repair Shop Is Hard to Find?
Think again. Bring your vehicle to Griffin's for any Saturn auto repair or service and rest your worrying mind with our 24,000-mile or 24-month guarantee. We have been taking care of cars and customers since 1959 so you know we are in the auto repair business for the long haul. We provide the little extras, too, such as same day repairs, free downtown shuttle, and friendly customer service. Give Griffin's a try for your Saturn service or repair today.
Request Appointment