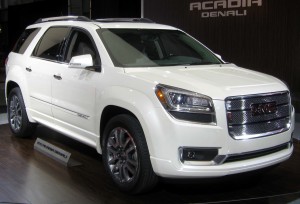 General Motors Corporation (GMC) is one of the world's largest manufacturers of cars, trucks and SUVs. The GMC line of trucks and SUVs continue to gain popularity and market share in recent years, particularly the: Envoy, Jimmy, Canyon, Sierra, Terrain, Yukon, Sonoma, Denali and Acadia. We could keep going on! Drivers look to GMC when they need reliability and toughness for heavy-, medium-, and light-duty pickup trucks & SUVs.
Yet your GMC truck or SUV can't perform at optimum performance levels if it isn't being maintained and kept in the best possible condition. Complying with your vehicle's GMC maintenance guidelines is one of the best things you can do to keep your truck or SUV running in top shape. So why aren't you doing it?
Griffin's Is Your GMC Service Center
Many owners, however, overlook routine maintenance and GMC service until something goes wrong. Either they hear a grinding sound when they shift gears or a screeching sound when they go to brake. Unfortunately, if you are the type of driver that relies on funny noises coming from your vehicle as signs that GMC auto repair is needed, you are waiting too long. It is better to stay ahead of GMC repairs by bringing your truck or SUV to a local GMC service center at regular intervals for scheduled maintenance and service.
At Griffin's, our GMC mechanics can run a complete diagnostics on your truck or SUV to see what needs replacement and what is doing just fine. We perform minor and major GMC repairs, including (but not limited to):
Oil changes
Brake service
Tune-ups
Transmission repair
Instrument cluster repair for trucks
Crankshaft position sensor replacement
Speedometer repair
Cooling system service
Fuel level sensor repair
In addition to popular GMC trucks and SUVs, Griffin's repairs all makes and models of GM cars, including Chevy and Chevrolet vehicles, Buick, Cadillac, Pontiac, Saturn and Oldsmobile.
Dependable GMC Repair in San Diego's Downtown
Griffin's offers quality GMC auto repair at its downtown San Diego location. It offers a 24-month or 24,000 mile guarantee on all its work so that you can feel confident getting your GMC services done at its shop instead of an expensive GMC service center at the dealership. It has been taking care of cars, trucks and SUVs for more than 50 years, and can take care of your GMC truck as well.
Request Appointment