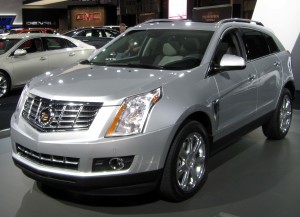 Cadillacs are the vehicles of songs, movies, and Hollywood. Known the world-over for their large size, glamour and frills. From Goodfellas and Clint Eastwood flics to the original Gone in 60 Seconds, Cadillacs are iconic for American cool, presence and style. So whether you drive an old-school Coupe DeVille or modern Escalade SUV or SRX Crossover, you know you need regular Cadillac maintenance and repair to keep your Caddy running in top condition.
At Griffin's Cadillac auto repair shop, we provide Cadillac repair and routine service for all makes and models, including (but not limited to):
CTS Sedan
ATS Sedan
ELR Coupe
XTS
DTS
Coupe DeVille
STS
XLR
SRX Crossover
Escalade SUV
Take Care of Your Caddy with Regular Cadillac Maintenance
The Cadillac brand, manufactured by General Motors (GM), is 110 years old making it one of the oldest luxury car lines that is still on the market today. Fad cars come and go but the prestigious stylings of Cadillacs are here to stay. Regular Cadillac service & maintenance can keep your vehicle on the road for a long time as well, and Griffin's offers all necessary Cadillac services and repairs to make that happen, including the following:
Oil change and filter replacement
Brake repair, service and brake pad / brake rotor replacement
Alternator replacement
Engine repair, including spark plug replacement and belt replacement
Fuel pump replacement
Transmission repair
Suspension repair and steering column replacement
Cooling system service
And much more…
A Cadillac Repair Shop You Can Rely Upon
If the check engine light comes on in your Cadillac STS model, a commonly reported problem, we can take a look for you too. Chances are it might be a loose gas cap or other minor issues. Our Cadillac mechanics are familiar with common issues in various makes and models as reported by the manufacturer or various consumer sites.
At Griffin's, our Cadillac service center will treat you right and answer any questions you might have about Cadillac repair and service. We provide all customers with a 24,000-mile or 24-month guarantee so that they can feel confident about coming into our local Cadillac repair shop for major, minor or maintenance services. We have been treating customers' right since 1959, and we'll treat you right too.
Request Appointment