In a word, yes. Rotating your vehicle's tires is a good way to make sure they wear more or less evenly over their lifetime. This can also ensure that the vehicle's suspension system or chassis does not get damaged as a result of driving on unevenly worn tires.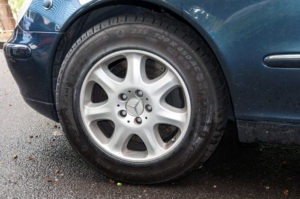 But first, let's address some common misconceptions about what a tire rotation is and what it isn't. The term "tire rotation" sounds kind of silly.  Of course we all know tires rotate; that is in fact what we use them for.  Some drivers might think, "Why do I need to find a repair shop to rotate my tires when I rotate them all the time when driving?"
"Tire rotation" doesn't mean the tire rotating on the axel
The term tire rotation in the realm of auto maintenance means to switch the front tires and the rear tires in order to gain as much even wear on all four tires of the vehicle. Otherwise, the front tires tend to wear much more than the rear tires. Maybe instead of "tire rotation" the term should be tire swap or tire change like an oil change.
Now that you have a better picture of what a tire rotation auto service involves, you know why it is important. In addition to extending the life of your tires, sometimes tire rotations can help you find more serious mechanical problems. Certain type of wear on your tires can signal a specific repair that is needed. Since tires are generally uncovered during a rotation, this can reveal such such issues as brake or suspension repair.
Though somewhat difficult to measure, regular tire rotations can improve your gas mileage, vehicle stability, and overall steering functionality as well.
Rotate your tires with other repair & maintenance services
How often do you need to rotate your tires? This varies by the make and model of your vehicle but the generally guideline is once every 10,000 miles or once a year. Drivers can save money by having a tire rotation performed as part of an existing maintenance service such as the 50,000 mile service or even an oil change. Once the vehicle is already up on the lift, most auto repair shops won't charge as much (if anything) for the tire rotation service.
Outside of regular vehicle maintenance, you should bring your tires in for a look if you hear a funny sound or feel a strange vibration coming from the wheel well area. For newer vehicles, the punctured tire light on the dash may appear if there is a problem with the tires. When you replace flat, punctured or worn tires, most shops will perform a tire rotation to balance them and the suspension system.
Still have questions? Give us a call today at 619-234-7991.