Yes even in sunny San Diego, it is important to prep your vehicle to get it winter ready. Whether you plan on driving to the mountains to enjoy skiing or just want to make sure your car is ready for a cold spell, basic auto repair and maintenance can help keep your car driving strong.

Don't Postpone That Oil Change
It is always important to take your car into your auto repair shop in San Diego for regular oil changes, and this is especially true during those cold winter months. If you put off this most fundamental car maintenance duty, it will have a greater negative impact in the winter season. This is because oil thickens as the environment becomes colder, which means your engine will have to work harder in order to produce the same power output. Without an oil change, the old oil will only get dirtier becoming more like clumpy sludge.
So if you tend to procrastinate, make sure you get this oil change to-do checked off your list if nothing else. When you are at the auto repair shop, double check to make sure you are using the proper grade oil. If you are planning on driving in freezing temperatures, ask about switching to a lower-viscosity oil, which tends to lubricate the engine better in colder temperatures.  Do you need an oil change every 3,000 miles? Probably not, but be sure to know what your oil change requirements are and keep up to extend the life of your engine.
Get Cooling System Service on Schedule
Here in Southern California, we tend to think of cooling system repair and maintenance during the hot summer months when your vehicle is at risk for overheating. Yet in the colder winter months, your vehicle's cooling system needs proper attention as well. In addition to checking the cooling system's fluid levels, you should make sure the radiator fluid is clear and unobstructed.
Just like an oil change, a radiator flush empties out the old gunky fluid and replenishes it with fresh fluid. Aging radiator fluid prevents your cooling system from functioning properly and needs to be replaced every few years. The cold temperatures can make the stale coolant perform poorly. So if your car, truck or SUV is due for a cooling system service, put it off at your own risk.  When do you need coolant repair?  Read up on it on our blog and consult your owners manual.  
Are Your Wipers Working?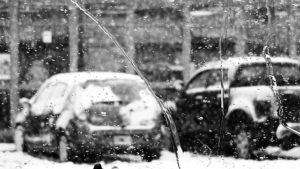 Here in America's Finest City, we get normally little rainfall, which means we rarely use our wiper blades. We would normally ask "When was the last time you turned them on?" You certainly don't want to find out you need to replace your wipers in the middle of a storm like what we have experienced in the past few months. If your wipers were bad chances are you just found out!  Most auto parts stores or online databases can help you find the right wiper blades for your car and help install them.  Get them fixed because March 2017 is going to be a wet one! 
Check Your Charge
Cold weather is not your car battery's friend. Though San Diego doesn't have the below-zero temperatures that zap the life out of your car battery, cold weather in general will take its toll on your battery's lifespan. So if you can't remember the last time you checked your battery, now would be a good time to do it. Most auto repair shops or auto parts stores will do it for free or next to nothing. It takes a few minutes and will save you a huge hassle down the road.
Hitting the Slopes? Road Trip-worthy Auto Repair and Driving Tips

Whether it's Big Bear, Mountain High or the weekend in Mammoth or Tahoe, don't head for the mountains this snow season without winterizing your vehicle first.
Snow Tires or Snow Chains? Pick One
In California many roads leading to the ski resort require you to have snow tires or chains on your vehicle. If you are going to be doing a lot of mountainous driving in the snow and ice, you may want to consider purchasing snow tires or four-wheel drive tires, which can be installed at most auto repair shops. Proper tires are essential for safe winter driving as they allow your vehicle the best road traction. Avoid getting stuck in the ditch and car repair due to a collision by using snow tires or chains.
Auto Repair for Your 4WD Vehicle
Just because your truck or SUV has four-wheel drive capacity doesn't mean you know how to properly use it. For most SoCal drivers, they get little if any practice using this function during day-to-day driving. So know how to activate this feature before you really need it. Nowadays, many newer models make use of an automatic four-wheel drive feature where tire monitors can detect conditions and switch to this added functionality when it is needed.  For instance, the BMW xdrive system, the Infiniti G37x or many Audi models
Stop Dead in Your Tracks with Brake Repair
Slow, intentional braking is a good way to avoid skidding and sliding on icy roads. New cars make use of anti-lock braking systems (ABS), which reduces this loss of control while braking. If you are not using antilock brakes, you may need to pump the brakes to avoid skidding. Of course, you want to make sure your brakes are functioning in tip-top condition before winter driving so be sure to get any brake repair work performed as soon as possible. Worn out rotors or brake pads make stopping on the ice that much more difficult.  For the best in San Diego brake repair, schedule an appointment and we can help ensure safer driving.
Salt on the Roads Can Damage Your Undercarriage
If you are driving in regions with moderate to heavy snowfall, be prepared to deal with the negative side effects of salt on the road. Salt is used to de-ice the roads as it has a higher freezing temperature. Though salting the roads helps to prevent ice patches from forming and therefore enables safer driving conditions, it is no friend to your car. The salt has corrosive power and can rust out your vehicle particularly its underbelly. Severe rusting can require suspension repair. To deter rust formation, make sure you get a thorough car wash after driving on salted road.
If you need to make sure your car is ready for your next mountain trip, bring it in to Griffins Auto Repair and take advantage of our friendly staff, loaner cars and courtesy shuttle.  We will be sure to provide a refreshing auto repair experience and unmatched value.