You're driving your car along the highway and everything seems fine. Then for no apparent reason, the dreaded "check engine" light pops on and your heart races. You arrive safe and sound to your destination but the spend the next few hours fretting about your car and wondering how long you can wait before bringing it in for an auto repair services and how much it's going to cost.
Inspection and Car Repair Services Don't Have to be Expensive
Don't go into panic mode just yet. Many years ago, before vehicles relied more heavily on advanced computer systems, the check engine light tended to signal more serious auto repair service such as major engine work. Today, however, the check engine light can signal many different things of varying levels of seriousness. Even if you're not a do-it-yourselfer, here are a few easy things you can do before bringing it in to the shop:
First, make sure it's the check engine light – it's usually yellow, orange or red and will say "Check Engine" – and not just the "service reminder" light. Many newer model vehicles have a reminder light telling you when it's time for routine maintenance.
Next, check your vehicle's gas cap to make sure it is on securely. No really. Take it off and put it back on again. Some vehicles today can be more sensitive, and something as simple as a loose gas cap can signal the light to go on.
Lastly, open the vehicle's hood and check for any obvious oversights. Check your oil level and cap. Check your radiator and fluid level. Check your power steering fluid level and cap.
Need Auto Repair Service? Ignore the Check Engine Light at Your Peril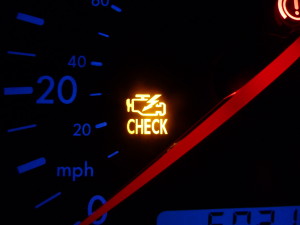 If the light still comes on, it is time to bring it into an auto repair shop for an inspection. Most reputable automotive repair service shops in San Diego charge a reasonable fee to inspect the vehicle and run a diagnosis. If something is wrong, there is at least a fair chance that it is something minor to fix. If additional automotive repair services are not needed, then at least you have peace of mind knowing so. The technician can turn off the check engine light for you.
Yet if you ignore the light and continue to drive the car, you could be headed for a major breakdown and thus – auto repair service. Though you may be tempted to chance it —let's face it, who among us isn't – make a commitment to bring the car into our local San Diego auto repair service shop that week. Your wallet – and your car – will thank you for it.