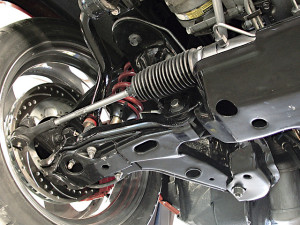 Suspension problems with your car, truck or SUV are more likely to go unnoticed when compared to more obvious troubles, such as brake problems, transmission troubles or engine issues. More often than not, you can still drive your car for a little while if the suspension balance is not the way it should be.
Delaying auto suspension repair could cost you, a lot
Because there are few red flag warnings when a car suspension repair must occur, such issues can go unnoticed. By continuing to drive on an improperly aligned auto suspension system, you run the risk of further damaging the system as well as other major components of the vehicle. As with most types of repair, auto suspension repair is best done as soon as possible so as not to risk a minor repair from becoming a major one.
So how do you know if your vehicle is in need of front suspension repair? Some signs might include the following:
Are the tires on your vehicle wearing more on one side than on the other? This is an indication that your vehicle may be leaning to one side or another.
When driving straight down the road, do you have to tilt your steering wheel to the left or right?
When you drive over bumps or dips on the road, does it feel like your vehicle offers no support?
Try this test: drive your vehicle slowly down a back road or large open parking lot. Lift your hands from the wheel and lift your foot off the gas pedal for just a few seconds. Does your car veer toward the right or left on its own?
If your car or truck is doing any of these things on a regular basis, then we suggest you bring it in for inspection and air suspension repair. We will perform the following:
Replacement of shocks absorbers and struts
Replacement strut bushings and repair of strut linkage
Service and lubrication of suspension components
Such front suspension repair does not have to be expensive, and our ACE-certified mechanics will work with you closely to let you know which fix must be made right away and which can wait. Our suspension repair shop can fix your vehicle the same day in most cases.
Seeking Suspension Repair? Griffin's offers the following:
Wait while we work with our same day service
No cost shuttle to nearby Downtown San Diego locations
All work is guaranteed with an 24 month, 24k mile warranty
Original Equipment Manufacturer (OEM) parts
Quality steering and suspension service in San Diego for over 55+ years!
Request Appointment