Keeping your vehicle in the cool zone this summer can be problematic if you own an older model VW Vanagon, Westphalia or Eurovan. Whether they have air-cooled or water cooled engines, regular maintenance and attention is needed to keep your Vanagon running strong throughout the summer.
Volkswagen Vanagons, so named because they are a cross between a station wagon and a van, remain popular vehicles for drivers in search of no-frills summer road trips, camping and sightseeing. Westfalias are basically Vanagons that have been modified with additional camping features. Westfalias are often recognized for their much loved pop-up camper addition though not all Westfalias have these components.
Westfalia repair can be tough to find so plan ahead
Westfalias are sometimes known as a cross between a Eurovan and a Winnebago but that's not 100% accurate either. For these reasons and more Westfalia repair can be tricky as it is more guideline than rulebook oriented.  Either way, taking your Vanagon or Westy on the road this summer requires some plan-ahead maintenance moves and follow thru.
Some model Vanagons and Westys have better performance records than others. The 1985-1991 Vanagons are arguably the best production years for the VW vehicles. By this time, VW had done away with the problematic 2000cc air-cooled engine found in early 1980s models. By 1985, it had designed and manufactured the water-cooled "Wasserboxer" or "Waterboxer" engine, which got off to a rough start but improved over the years with some troubleshooting and reworking.
VW Vanagon repair for cooling systems
Fans of Vanagons and Westphalias claim that they can go 200,000 to 300,000 miles if they are well cared for and maintained. One common Vanagon repair is regularly replacing plastic pipings and rubber hoses, which are known to wear and tear. The plastic pipes that connect the coolant system or radiator to the engine need special attention and regular mileage interval replacements.
Failure to pay attention to rips and leaks in these tubes could cause major engine repair if not addressed immediately. Replacing the entire pipe setting with proper OEM parts is strongly suggested though this will cost more than patching up the tears. While these might serve as a temporary fix, they are not a recommended long term VW Vanagon repair for the cooling system.
ABCs of Vanagon repair: Always be checking coolant levels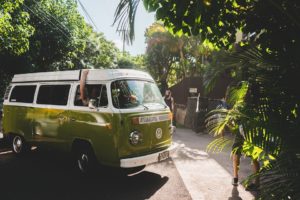 Year-round and particularly in the hot summer months, checking your VW's coolant levels are as important as regularly filling it up with fuel. Older model head gaskets were prone to leaking due to poor sealing and a breakdown of the materials that comprised the Wasserboxer. Newer refrigerant materials have significantly improved the functionality of the cooling system and engine but regular Vanagon maintenance is still strongly suggested.
Most Vanagon and Eurovan models have two coolant reservoirs and their fill-levels should be checked weekly or twice a month. Monitor any drops in the reservoir's fluid level. Frequent refilling likely signals that there is a leak somewhere and cooling system repair is likely needed. If this is the case, now is the time to take your VW in for a Vanagon repair to your local shop.
Vanagon repair for the AC unit
So now that you are checking your coolant levels regularly during June, July and August to keep your VW Vanagon, Eurovan or Westy purring along smoothly, what about your AC unit? In Southern California a properly working air conditioner for your vehicle is a must have. For these older model vehicles, it is an understatement to say that regular maintenance, care and Westfalia repair are needed to keep those aging AC units running cool.
Years ago in the 1990s, the refrigerant for all vehicles on the road were switched over to 134a refrigerant from Freon, which was bad for the environment (specifically the ozone layer). For newer model vehicles in general, this switch was no big deal from the driver's perspective. Yet for aging VWs including Westys and Vanagons, the changeover required either the installation of a completely new air conditioning system (expensive and a major automotive AC repair) or the adoption of the AC R134a conversion kit.
Never quite perfect: Westy and Vanagon maintenance for the AC
Unfortunately, these kit conversions did not work as well as advertised. Small leaks were commonplace due to fittings, O-ring connectors and hoses that just don't fit or seal properly. It is estimated that even with proper installation of these kits, there is roughly 15 percent leakage that no amount of auto air-conditioning repair can fix. Dealing with this problem is part and parcel of driving older model vehicles whose systems sometimes can't quite sync up with new technologies.
Westy and Vanagon maintenance is a constant
When your vehicle's AC doesn't run as efficiently as it should, this means you will feel it blow cold-ish air but don't expect it to be ice cold as it is in newer model Volkswagens. All things considered, with the right AC maintenance, air conditioners in Westys and Vanagons function good enough to keep you cool but it is unlikely to be the coldest AC you've ever experienced. On the flip side, AC for Euro vans seems to function better and do not experience the same leakage problems from the Freon to R134a refrigerant conversion.