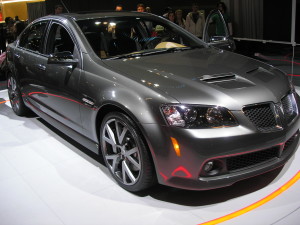 Pontiac vehicles were one of General Motor's most popular brands for dozens of years, and fans were upset when GM decided to discontinue manufacturing the brand in 2009. So if you own an early or late-model Pontiac vehicle, you want to keep it running as long as you can. After all, you won't be able to replace it with a newly minted one from the factory floor. So who can you trust to keep your Pontiac vehicle going strong for years to come?
Griffin's performs a wide range of Pontiac auto repair from basic tune ups, maintenance and brake service to more complex jobs such as transmission, engine, cooling system and suspension work. We offer Pontiac repair on popular makes and models, including:
Grand Am
Grand Prix
Aztek
Sunfire
Montana
Vibe
G6
Soltice
G8
We Perform Pontiac Maintenance & Cooling System Service
At Griffin's Pontiac service center, our trained mechanics are familiar with some of the more common issues with these vehicles such as the troublesome manifold gaskets on Grand Am's that can cause fluid leaking. This is one of those Pontiac repairs that if detected soon enough can be fixed and cause little damage otherwise.
Bring your vehicle in for Pontiac maintenance and one of our trained technicians can keep an eye out for this common Grand Am problem. Low coolant levels or a leaking system can signal the manifold gasket isn't holding up and needs to be replaced.
Fair-Priced Pontiac Repair and Maintenance
While we can't bring back the Pontiac from General Motors, we can help make sure yours runs as long as possible. In most cases, technicians at our Pontiac repair shop can get the work done the same day so you don't have to worry about being without a vehicle for long. We offer a free shuttle to downtown San Diego which is perfect for those who live or work in the area.
And just like other high-end specialty Pontiac repair shops in San Diego, we offer a competitive 24-months or 24,000-mile repair guarantee on all our Pontiac auto repairs. At Griffin's, we have been in business for more than 50 years. You don't have to over pay for a guarantee on Pontiac service and maintenance.
Request Appointment