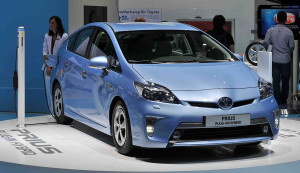 Purchasing a hybrid vehicle is a good way to reduce pollutants such as harmful carbon emissions while driving. It can also reduce costs at the pump as far as refilling your vehicle with gasoline. Yet a downside of driving such a vehicle can be hybrid repair costs and maintenance. Finding a "someone who knows-what-they're-doing" hybrid repair shop in the San Diego area has also been problematic for many – but not anymore!
Knowledgeable, No-Fuss Hybrid Repair
Local hybrid and electric car drivers, Griffin's is taking the specialty pricing out of hybrid vehicle repair. We repair all popular makes and models of hybrid and electric cars, including:
Chevy Volt
Ford C-Max, Fusion
Toyota Avalon, Camry & Prius (hybrid and plug-in models)
Chevrolet Spark EV
Tesla Model S
Hyundai Sonata
KIA Optima
Nissan Leaf
Honda Accord, Insight, CR-Z & Civic (hybrid models)
And we plan to keep up-to-date on all new models to be released.
Griffin's can perform all types of hybrid auto repairs and service checks, including brake service, oil change, engine repair, and even battery repairs. Hybrid car drivers know that battery repair and replacement can be a costly undertaking. At Griffin's, you can drive right pass the overpriced manufacturer's dealership to get priced-right quality battery repair without the markup.
And just like all our other auto services, hybrid repair for batteries is covered under our 24-mos. or 24,000-mile warrantee. If you have been reluctant to take your hybrid vehicle to a non-dealership repair center for fear they won't know how to properly perform your hybrid car repair, we invite you to give our repair shop a try. We stand by our work warrantee.
Hybrid Vehicle Repair Quality without the Hybrid Vehicle Attitude
As more and more automobile manufacturers make hybrid models of their vehicles, hybrid repair becomes less of a rarity and therefore less expensive in most cases. Though the dealership's service centers will often lead you to believe only their shop is qualified to perform a battery or hybrid auto repair, this is just not necessarily true.
At Griffin's our mechanics are trained and experienced on performing all types of electric and hybrid car repair. We have the tools, technology and equipment to perform proper diagnostics and most services can be done on the day you bring in your car. So don't feel tied to go to the dealership for hybrid repair. We've been repairing all kinds of vehicles in San Diego since 1959, and we've based our family business on treating our customers like neighbors, family and friends.
Request Appointment