Very few among us actually enjoy bringing their car, truck or SUV into auto repair shops. Even automobile enthusiasts and aficionados usually do not enjoy taking their own car in to get it diagnosed and fixed. Auto repair service & maintenance can be stress-inducing, expensive, and time consuming. When you bring your car in to an auto repair shop, you have to deal with the inconvenience of not having a car for a day or two or the hassle of renting or borrowing a car.
Auto Repair: Do It Right or Do It Twice?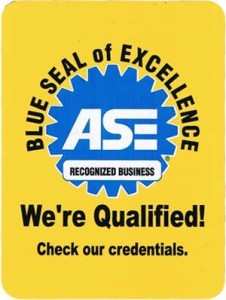 Yet what's worse than dealing with the headaches of car repair service is having to deal with it twice due to it being done wrong the first time. Not only are you out of money and time but now your anxiety is twofold as you worry about being able to trust any repair shops in San Diego again.
One way to help prevent this worst-case scenario from happening is to take your car into a local, San Diego auto repair shop that hires ASE mechanics. Not affiliated with any auto manufacturer or repair company, Automotive Service Excellence (ASE) is a non-profit that tests and certifies repair and service professionals with the goal of improving vehicle repair quality. A lot of time, energy and work go into becoming an ASE mechanic; it is a status not achieved by everyone who says they can fix cars. Those who pass the rigorous set of tests do so by demonstrating their high level knowledge and competency in automotive repair. In order to keep up their certification, retesting every five years is required.
ASE Mechanics Perform Auto Repair Right the First Time
In addition to ensuring you only bring your vehicle to a car repair shop that uses ASE certified mechanics, consider choosing a shop or mechanic based on their manufacturer's training. Through different schools across the country, many individual manufacturers provide certified, hands-on training programs for their unique brands of cars.
Drive an Audi? Find an Audi Mechanic
As such, these technicians become a certified Acura, BMW, Lexus, Acura, or Mercedes mechanic (and so on). So if you drive a Lexus, bring it into our local San Diego auto repair shop because we have ASE Certified Lexus mechanics, etc. Though no one is perfect and mistakes can sometimes happen, follow these tips the next time you need to bring your vehicle in for service and repair