Affordable brake repair you can count on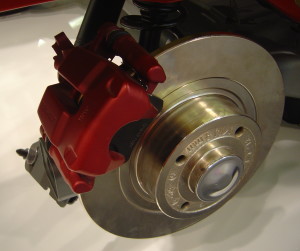 Luxury car amenities such as heated and cooled leather seats, rear cameras, LED lighting, and a car that parks itself are all nice to have. But car owners on a budget might forgo the talking car to save some money. While there's nothing wrong with trying to save a buck, brake repair and service is one area drivers should never be stingy with.
Local brake repair worth stopping for
Whether you own a family sedan, truck, off-roading SUV or sports car, auto brake repair is a priority. The safety of yourself and your passengers relies on the vehicle stopping as it is supposed to once the brakes are applied. Car brake repair and maintenance must be performed at regular intervals to ensure your brake pads and shoes are in good condition. Bring your vehicle in to our local brake repair shop if it shows any of the below performance issues. We can usually fix it the same day.
A screechy or squeaky sound comes from your brakes when you step on the pedal.
Your vehicle vibrates, grinds, or sputters when you apply the brakes.
Your car or truck takes longer to stop than it should, based on past driving experience.
Lights for your brakes don't come on the way they're supposed to.
If your vehicle demonstrates any of those symptoms, don't delay. Bring it in for an inspection immediately to see if automobile brake repair is needed. Driving your car on bad brakes will only damage them further and puts you, your passengers and other driver on the road at risk. If a much needed brake repair is left unchecked, it could cause damage to other systems and components of your vehicle as well making for a more costly repair.
Our brake repair includes the following services:
Full assessment and diagnosis of your vehicle's brake system
Taking off your old brake pads and shoes and replacing them with new ones
Resurfacing rotors or replacing them if needed
A complete flush of your brake fluid system
Fine-tuning and adjusting the brakes so that they stop on a dime
Perform anti-lock brake system testing and repair as needed
So if your brakes aren't working as they should, don't hesitate to bring them in to our brake repair shop for a fast inspection and same-day repair. Because bad brakes are one repair you can never afford to skimp on.
See what Griffin's has to offer:
Recognized as Downtown San Diego's top brake repair experts!
Brake work completed the same day
Get no-cost local shuttle service
Backed by an 24 month or 24,000-mile guarantee
Only OEM parts are used
Performing high quality brake service and repair for 55+ years plus!
Request Appointment