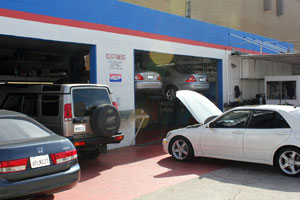 In San Diego, many auto repair shops have come and gone in the more than the 57 years that Griffin's Auto Repair has remained in its Little Italy location. And while car styles, designs, mechanics, and technologies have changed considerable from those early days, many other things have stayed the same. In those days and now, motorists want quality auto repair services. They want a place they bring their vehicle to again and again. Quality repair and maintenance services are a given, but car owners want to know they will be treated fairly. They do not want to be pushed into a repairs they don't need. This has been our business model and why we are still running strong to this day.
Standing apart from other local auto repair shops
Griffin's is a fixture in the Little Italy neighborhood. We're surviving changing generations, re-gentrification efforts, as well as a wide range of automobile trends. What has sustained Griffin's for so many years is its focus on treating customers like friends, neighbors and even family. We implicitly recognize that the success of our business is based on repeat customers in the surrounding communities as well as those who work downtown.
Because we're in it for the long haul, we want customers to come back again and again when they need car repair service and maintenance work. By treating our customers as we'd like our own family to be treated, the business continues to survive and thrive when many auto repair shops have moved on or closed up in the last several decades.
Full-suite of car repair services
At Griffin's, we offer auto repair services on most makes and models of: Toyotas, Lexus's, Hondas, Acura's, VWs, BMWs, Mercedes, Jaguars, and Volvos, including Hybrid vehicles. Starting early 2016, we also now work on Vanagons, Westfalia's and other vintage VW models as well.
Unlike other so-called specialty car repair shops, we provide full-service repairs, diagnoses and inspections for the following:
Engine Block
Transmission Services (including Clutch)
Air Conditioning / (A/C) Tune Up
Electrical System
Brake Systems
Suspension Systems
Cooling / Heating Systems
In addition to performing complete automotive repair services, we perform:
Factory recommended maintenance interval services
Tune-ups and oil changes
Pre-purchase & used car inspections
We stand behind all repairs by offering a full service warrantee for 24,000 miles or 24 months – that's more than the other guys. As a courtesy to our customers, we provide free shuttle service to downtown San Diego area.  Online scheduling for your convenience is available here. And when needed, we can provide same day repair and maintenance in most cases.
Visit our Car Care Tips page and watch our educational how-to videos to learn more about the importance of regular vehicle maintenance.
-Sincerely,
The team at Griffin's Auto Repair
You can find me on Google+