Stop searching: Griffin's offers local auto repair you can trust
"Quality auto repair in San Diego at a reasonable, fair price." Chances are if your vehicle is in need of repair or scheduled maintenance, this simple outcome is what you're looking for.
Though it shouldn't be so hard, finding reputable, fair-priced auto repair can be a real test of endurance and patience. With so many car repair shops competing for your business, where should you go for repair and regular maintenance of your car, truck or SUV?
Headquartered in downtown San Diego for more than 55+ years, Griffin's Auto Repair wants to roll out the symbolic red carpet to welcome you to its shop. Proud of its neighborhood feel and world-class service, Griffin's repairs all makes and models of foreign vehicle brands, including: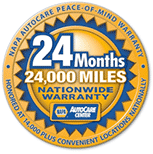 At Griffin's Auto Repair, our business has withstood the test of more than 6 decades – that's 11 presidents — by holding true to our value of treating our customers like family.
To get started on your auto repair needs, we run a thorough assessment using advanced technology and old-school know-how.
Next we request your approval for the needed or suggested work.
Once approved, our factory-trained ACE mechanics will perform all the repair right in our local garage.
Then, we'll test it again just to make sure we got it right.
This is how we'd like our family to be treated when seeking auto repair services so this is how we vow to treat you. More than just a promise, each car repair service is backed by our 24,000 mile or 24-month guarantee, one of the best guarantees you'll find in San Diego period. Most work can be done same day because we keep a full stock of OEM parts.
Offering every type of auto repair you'll need:
Unlike some garages that specialize in one type of repair, we offer a full suite of services, including:
Suspension & Steering, Including CV Joints and Axles
Regular Maintenance Services, Tune-ups & Oil Changes
Schedule your complete auto repair needs online
If your vehicle is in the market for a new car repair shop, give us a call. We'll work with you to execute any repairs needed or set you up on a regular maintenance schedule to keep your vehicle running in tip-top shape. Learn more about our car repair techniques with helpful how-to resources & videos by visiting our Car Care Tips section. Thank you for visiting, and we look forward to serving your auto repair needs.